I recently upgraded dbForge SQL Studio from ver5 to ver6, and I seem to have lost the ability to Copy a row (or rows) and then select "Paste as new Records".
When i right-click on the row, the "Paste as new Records" menu item is ALWAYS showing as disabled. I am not in read-only mode and I have used this feature for years in ver5. Does anyone know what may have changed or how to re-enable that feature?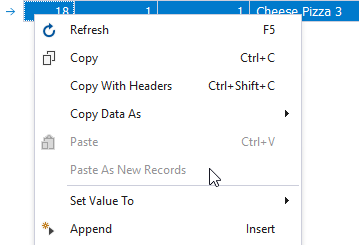 Edit: ==========
hmm, I just noticed that due to the foreign keys, there are dropdowns for those foreign key fields. So even though this is just a single table, and even though I'd like to simply paste in the row WITH the correct foreign keys, I wonder if those dropdowns are causing the "Paste as new Record" menu item to be disabled?