by MariiaI » Fri 07 Mar 2014 06:34
Devart Team
Posts: 1472
Joined: Mon 13 Feb 2012 08:17
---
by AKRRKA » Fri 07 Mar 2014 13:59
Thanks all critical issue are fixed.
But yet remain still a few non-critical differences.
1) Don`t add comments.
2) Action for constraints.Not entirely fixed. When explicitly setting "NO ACTION", it is not taken into account when creating from code.
3.1) The order of fields is different.
3.2) Order of the fields in the primary key is different.
3.3) Indeces for different fields.
PS: 3.1-3.3 - Theoretically could affect performance.
Screenshots with comments.
Full link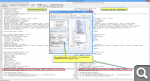 Full link
Posts: 194
Joined: Thu 26 Jan 2012 15:07
Location: Russia
---
by MariiaI » Tue 11 Mar 2014 11:29
We will contact you as soon as any results regarding other issues are available.
Devart Team
Posts: 1472
Joined: Mon 13 Feb 2012 08:17
---
---